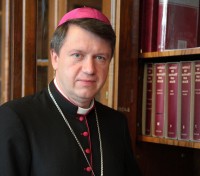 Archbishop Józef Kupny was born on 23 February 1956 in Dąbrówka Wielka. He entered the seminary in Kraków in 1975, but his studies were very soon interrupted by compulsory military service, which lasted for two years. He was ordained priest on 31 March 1983 in Katowice and served as priest in parishes in the Katowice Diocese. In 1993, he received his doctorate degree in sociology from the Catholic University of Lublin and, in 1998, he became an assistant professor in the Department of Catholic Social doctrine at the Catholic University of Lublin.
From 2001 to 2006, Fr Józef Kupny was rector of the seminary in Katowice as well as serving as the Deputy Director of the General Department of Pastoral Care in the Metropolitan Curia in Katowice. In December 2005, Pope Benedict XVI appointed Fr Józef to be an auxiliary bishop in the Archdiocese of Katowice and, in the following year, Katowice Archbishop Damian Zimoń appointed Bishop Kupny to be Vicar General of the Archdiocese.
On 18 May 2013, Pope Francis appointed Bishop Józef to be the Archbishop of the Wrocław Diocese, taking over for Archbishop Marian Gołębiewski, who had reached retirement age (75 years). Archbishop Marian was a bishop for seventeen years, first in Koszalin-Kolobrzeg from 1996, then since April 2004 as the Archbishop of Wrocław. In 2012, Archbishop Marian celebrated the 50th anniversary of his priestly ordination. He was looking forward to retirement and more time for reading and traveling.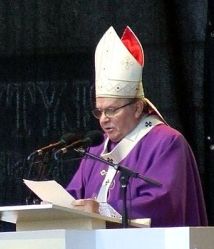 Archbishop Józef's ingress into the Cathedral of St John the Baptist was on 16 June 2013 at 15:00. The Archbishop's episcopal motto is "Chrystus nas umiłował" — "Christ loved us".
Let us remember our Archbishop, Józef Kupny, in our prayers:
God, eternal shepherd,
you tend your Church in many ways and rule us with love.
You have chosen your servant, Józef, to be a shepherd of your flock.
Give him a spirit of courage and right judgment, a spirit of knowledge and love.
By governing with fidelity those entrusted to his care, may he build your Church as a sign of salvation for the world.
Amen.